Welcome to Daniels Family Knife Brands.
Just now released is a very special SFO for Carl Bradshaw, who also helps out with our knife photography, graphics, and CAD files. Carl is a 5th generation maple syrup producer who lives in northwestern Pennsylvania, not far from Titusville. He wanted to commemorate his family hobby and have a knife made that he could give out to his family and friends who have helped him make syrup over the years.
The knife is called the "Syrup Maker Special" and is built on the Old Man Jack frame. The knife features a sheepsfoot blade with long pull, and has the special Bradshaw maple leaf stamp on the rear tang. It also is serialized, and only 25 knives were made. The knife includes unique red Birdseye Maple handles, keeping in line with the maple syrup theme. Each knife sold also comes with a small bottle of maple syrup that was made in March 2023.
This also marks a launch of DFKB starting to work together with other people on SFO projects, allowing them to share a little about themselves, their family, and their businesses. We have plans in the works to provide other special releases in the future.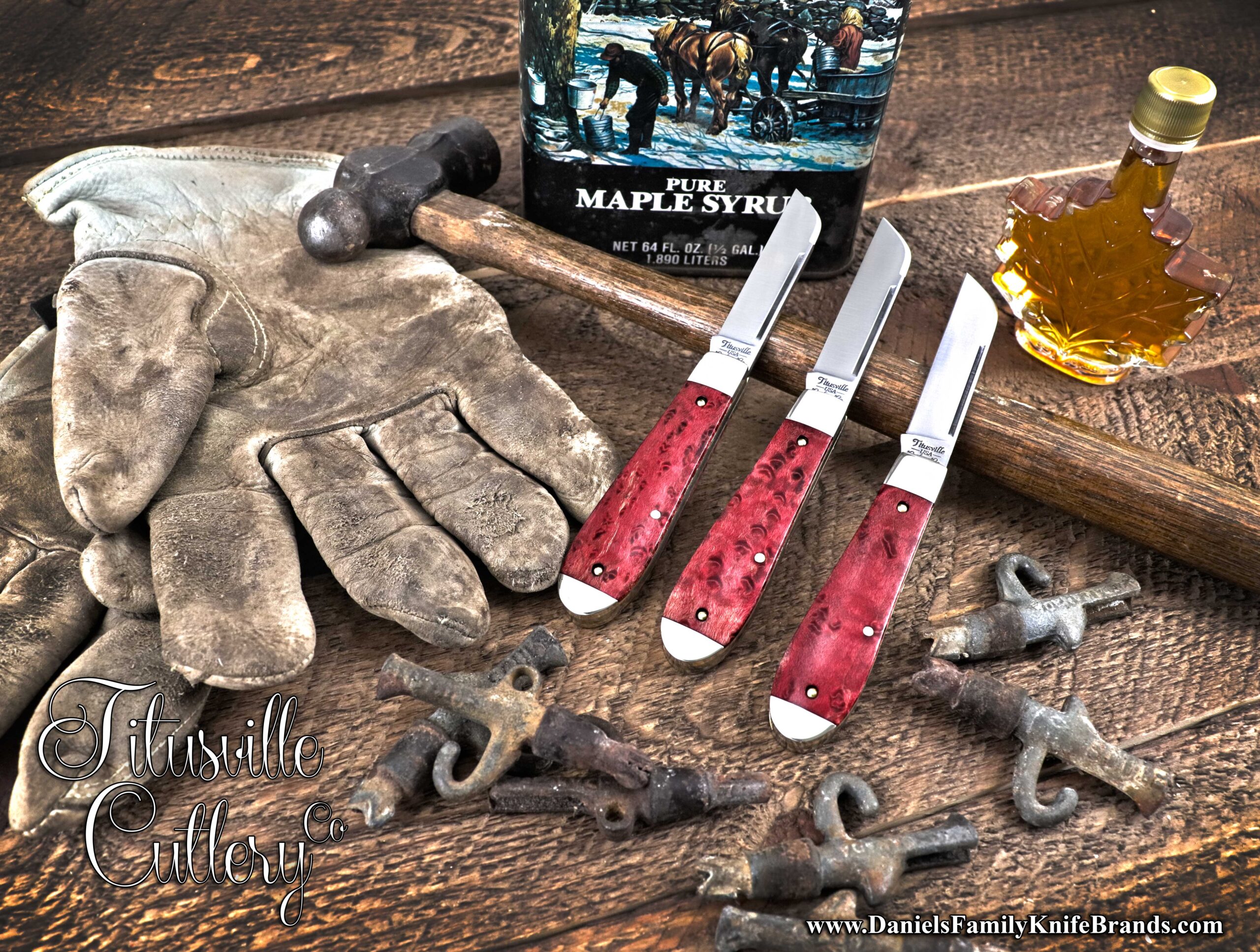 Another recent release from Titusville Cutlery Co. is the popular Old Man Jack pattern, measuring 3 3/4 inches closed. They feature a lambsfoot blade, and have amazing Catalina Wine Mixer Bone handles, and 1095 high carbon blades. You can visit our Titusville dealers list here if you are interested.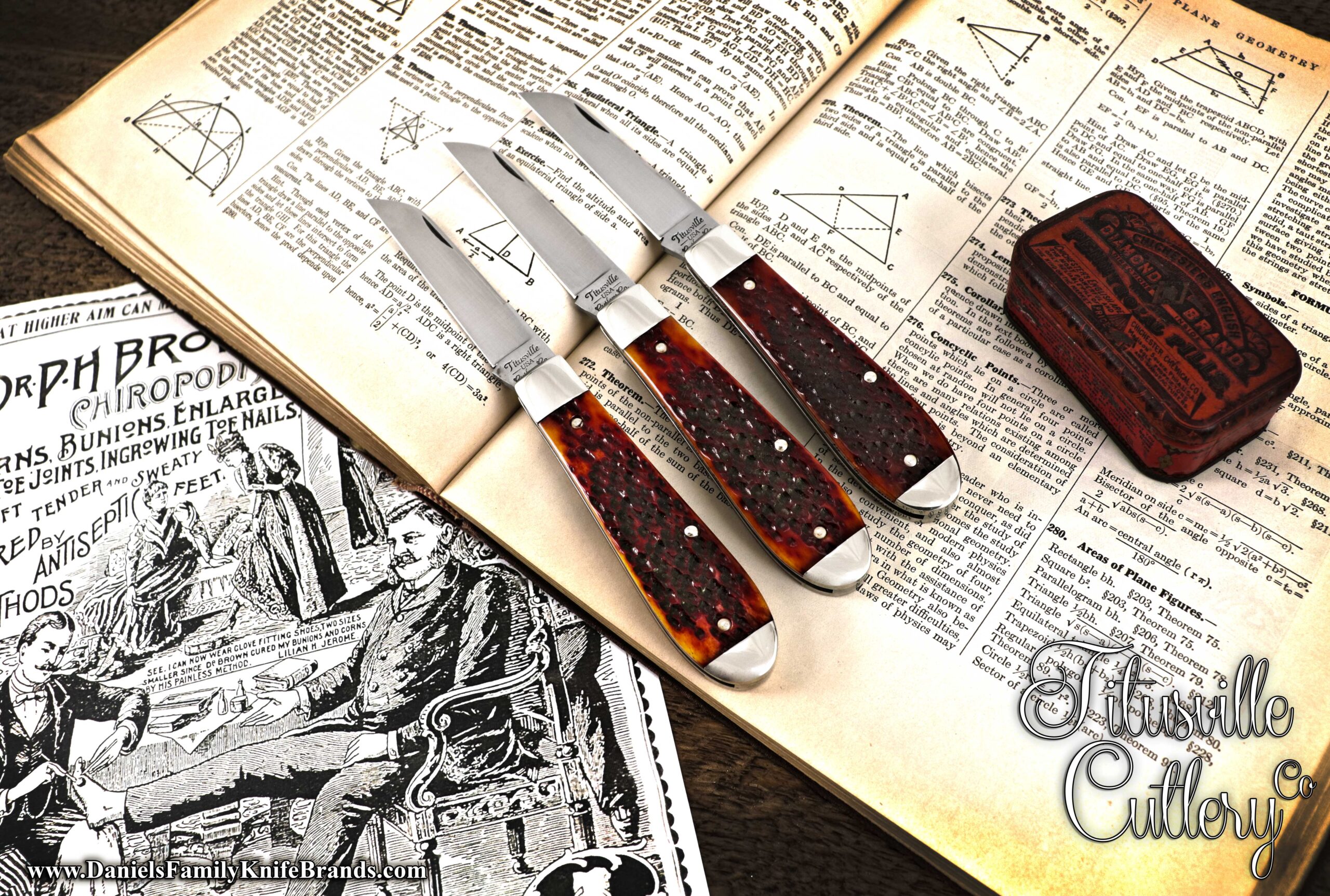 The Daniels family have been involved in knives for five generations, from trading, selling, manufacturing, and now distribution. Our goal is to work with knife makers and manufacturers to bring our customers an exclusive line of knives with the highest quality materials.
Check out our Knife Show Schedule to see where you can find us next!
Thank you for your interest in our products.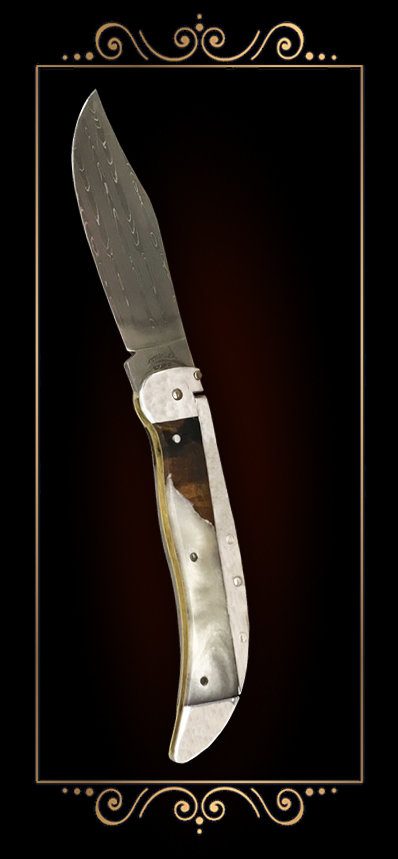 Email
Questions or comments about any of our products, please send us an email.