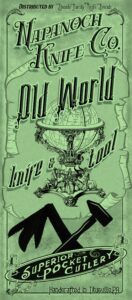 Napanoch Knife Co.
Old World Knife & Tool
The Napanoch Knife Co. is an old brand which is revitalized now by the Daniels family.  These are an unusual limited line of pocket knives that replicate the folding tools from the late 1800's through the early 1900's. These pocket knives will feature various blade tools such as: saw, punch, bottle openers and other tool blades which give you that old world feel. Every part and blade will be handcrafted in the historic town of Titusville, Pennsylvania with time tested steel and materials.

Below you can view photos of all the Napanoch products released by Daniels Family Knife Brands.


Ready to buy a Napanoch product?
The Napanoch Knife Co. line of products are offered exclusively by Daniels Family Knife Brands, and sold only by these dealers.