The Forgotten Excelsior Knife Company
By
David L. Anthony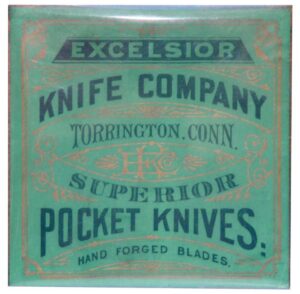 In researching the history of the Excelsior Knife Company, we find that information is in short supply. One must remember that this company manufactured high quality pieces of cutlery for only a short period of time. One can only speculate as to why this is. They certainly had a huge gene pool of talented cutlers in the New England area at this time in history. So, the lack of qualified employees certainly wasn't one of the factors. In addition, the availability of waterpower or raw materials didn't seem to relate to this disbandment either. Just look at the Tariff Commissions Report from August of 1882 and you see a who's who list of companies engaged in the manufacturing of pocketknives in the United States. New England states dominated the industry, but a hint of migration westward is apparent upon closer examination.

– American Knife Company, Thomaston, Conn

– American Shear Company, Hotchkissville, Conn

– Canastota Knife Company, Canastota, N.Y.

– Central City Knife Company, Phoenix, N.Y.

– Carter & Johnston, Akron, Ohio

– Empire Knife Company, West Winsted, Conn.

– Excelsior Knife Company, Torrington, conn.

– Fayetteville Knife Company, Fayetteville, N.Y.

– Frary Cutlery Company, Bridgeport, Conn.

– Gardner Manufacturing Company, Shelburne Falls, Mass.

– Holley Manufacturing Company, Lakeville, Conn.

– Humason & Beckley Manufacturing Company, New Britain, Conn.

– John Russell Cutlery Company, Turner's Falls, Mass.

– Naugatuck Cutlery Company, Naugatuck, Conn.

– Northfield Knife Company, Northfield, Conn.

– Southington Cutlery Company, Southington, Conn.

– Ulster Knife Company, Ellenville N.Y.

– Union Knife Company, Naugatuck, Conn.

– Walden Knife Company, Walden N.Y.

– Waterbury Knife Company, Waterbury, Conn.

– Waterville Cutlery Company, Waterville, Conn.

– Wolfertz, C. F. & Company, Allentown, PA

– Beaver Falls Cutlery Company, Beaver Falls, PA
So, was the leadership of the Excelsior Knife Company to blame for its short-lived participation in the industry? Records indicate that in 1880 the business was formed in Torrington, Connecticut. JH Cooper was the head of the operation. No doubt he either had a supposedly good business sense or a history in the knifemaking world that motivated him to enter into this venture. Very little is known about Mr. Cooper and his history. In addition, Mr. HA Church was designated as treasury of the Excelsior Knife Company and his past is as elusive as his associate Mr. Cooper. These fellows were listed as the primary contacts in 1879 and helped to produce some 10,500 dozen of cutlery items in the year 1882. That's 126,000 knives and/or razors in one year! One would think that locating an example of these high-quality pieces of cutlery would be quite easy. To the contrary, finding even a knife in poor condition is a rarity. Remember that by the end of 1884, the company as we knew it would cease to exist.  Opening up an old bone handled knife and finding that coveted stamp "Excelsior Knife Company" is a thrill for even the most seasoned vintage knife enthusiast.
To continue the saga of this knife company legacy, you have to go to the small town of Northfield, Connecticut to unravel its future. The historically important Northfield Knife Company, who was original lead by the cutler legend Samuel Mason, was established in 1858. They quickly dominated the industry and not only purchased the Excelsior Knife Company, but also the American Knife Company of nearby Thomaston, Connecticut in 1884.
You have to understand the role that the Northfield Company played in the manufacturing of knives to understand the tremendous affect it had on the industry. Although it was besieged with power plays to determine ownership and guidance of its future, the list of famous people who worked through its ranks is unprecedented. The names of Charles Platts and his son's is an excellent example of the skilled professionals that came from here. In fact, Charles chooses to be buried at the Northfield cemetery, merely a stones through from where the original factory stood and not far from his home that sat on the hill overlooking the operation. The home still stands today.
The Northfield Knife Company produced the very first cast iron handled knives in 1862. The war between the states was a golden opportunity for them to capitalize on this invention. In what some might consider a hostile takeover, ownership and control of the company passed to Franklin H. and J. Howard Catlin of Northfield in 1862. The success of the company led the Catlin brothers to expand through the purchase of several of the area's smaller knife companies like Excelsior. This eliminated some competition but also added skilled laborers to their workforce. The 1901 Pan American Exposition provided an excellent outlet for Northfield to exhibit their impressive display of over one thousand different knife styles. As with all of the early knife giants, it died a slow death. In 1919 the Northfield Knife Company was sold to Clark Brothers Cutlery of St. Louis, Missouri, and the company was declared bankrupt in 1929.
Now for the exciting part. Daniels Family Knives has revived this historic knife company and is offering a line of high-quality cutlery pieces to pay homage to one of the great ones. The pride comes not only from offering knives for those with discriminating taste, but also the reintroduction of a famous old knife company that surely would have been long forgotten had not the Daniels Family Knives group opted to bring it back to life. Hold one and let your imagination take you back to the later part of the 1800s. You can feel the history pulse through your hands. I know I did!