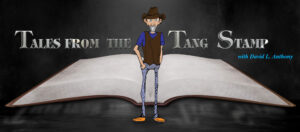 Chapter Two
The Bronze Lantern
Is It Really Christmas!
Window shopping at the Bronze Lantern was a social event for many of the locals in Ironton, Ohio, especially at Christmas time. It was not unusual to see a shrunken head from New Guinea, a 10′ hand-carved totem pole from a remote Eskimo tribe of northern Alaska, or an example of medical quackery in the form of a hand-cranked headache machine. In addition, extensive displays of various cutlery items were prominently displayed for all to see. Yes, the Bronze Lantern was the place to see oddities, curiosities, knives galore, and even stay the night in one of the finely decorated rooms upstairs. Mr.  Stacy, when he was in town, always arrived at 7:45 am each day to see that the shop was ready for the daily invasion of novelty seekers. It was the closest thing to a museum the town had at the time, so it became a social event for many. His daily clerks were phenomena in themselves. Jessie LaFontaine was a native of the Louisiana Bayou. His creole accent alone was enough to get any potential buyers' attention.  He was a trusted friend that made Stacy's acquaintance in Louisville years ago while on a buying trip. High Eagle was an American Indian, half Chippewa, and Crow. He was an ominous figure at 6′, but he brought an air of authenticity to the establishment as a place to see and buy things no one else had. The adventure that brought him to Ironton was an undertaking in itself. Abagail DeLario was the bookkeeper/manager and oversaw the entire operation during Stacy's absence. She has been with the group from the beginning. Rumor has it she was pining for Mr. Stacy, but each was always professional and kept any feelings for each other a secret, well at least for now. Ms. DeLario was a former riverboat showgirl who Stacy took under his wing during some difficult times.  Each could tell stories about their employer that no one else had ever heard. The visitors enjoyed seeing and interacting with them, with their mysterious accents and knowledge of the world outside Ironton.
A regular occurrence at the entrance to the shop was the children who waited patiently for Mr. Stacy to arrive. It was no secret amongst the children, who he dearly loved, that he kept candy in his coat pocket. The Hershey Kiss from that famous chocolate factory in Pennsylvania had just hit the market for the first time this year, and the cold weather allowed them to stay solid for the youngsters when he passed them out. Not that any of them cared if they were a little soft. He admired the vast business sense and marketing skills that Milton Hershey demonstrated.
For a short time, vandalism was a chronic problem at the storefront. Graffiti, property damage and intimidation of patrons were genuine concerns for the wellbeing of the establishment. His answer was to seek out the most abysmal of the perpetrators and offer them the job of keeping the area secure. Being they were the worst of the worst, and now in charge of keeping the peace, things got much better faster. Naturally, the other kids were jealous and vied for the positions themselves. He watched more than one troubled youth get turned around with some honest responsibility and go on to become good citizens of Ironton. Stacy used this technique on many occasions to convince others of the value of engaging our youth. Imagine being given a pocketknife as a poor kid just for keeping an eye on things. This tradition would carry on for many years and be one of the legacies Mr. Stacy continued joyfully.
One young man proved to be a bit of a challenge in this instance. December in Ironton could be on the harsh side when it came to winters descent into the Ohio Valley. This community held many transients that arrived via train or boat and stayed a short time before moving on. Others ended up staying, but not always for good reasons. Sometimes they just didn't have a choice. The Christmas season could be a lonely time for a youngster with no real family. Not everyone in Ironton had a soft spot for the feral children that roamed the boat and rail docks, but the promise of a bit of candy from the well-dressed man with the dapper fedora at the Bronze Lantern sometimes drew dozens to the storefront.
A cold rain mixed with sleet greeted early December. Even this nasty weather didn't stop the local children from meeting Mr. Stacy at the entrance for a bit of candy. The two rouge teenagers he had overseeing the property stood in the alleyway, pushing and kicking a younger kid to the ground yelling at him loudly. Douglas took notice and quickly stepped in and intervened to see what was going on. The older boys said they found this kid sleeping in the doorway on the side of the building. They assumed that he was trying to break in and took matters into their own hands. He called the boys off and grabbed the youngster by the coat as he attempted to run off immediately after the boys let him loose.
He assured the young lad that nothing would happen to him and that those boys wouldn't bother him again. He noticed his tattered clothes and lack of hygiene. He asked him to come in the store and see if Ms. DeLario could fix him up a little breakfast; she made a mean French toast. Looking the boy up and down as he followed him into the store, Douglas's heart sank a little bit. He knew the situation all too well, as he had seen this before. No parents to raise him and no place to turn but to the streets and those with no feelings for the downtrodden.
In 1907 a man could figure on living to the ripe old age of 46. Typhoid and tuberculosis lurked in the dark corners, just waiting to add yet another to its list of victims. Douglas was now just 27 years old, and he knew that life held many more adventures for him. He never turned away a child if he could help someone else by showing even a little bit of compassion and kindness. He was already successful in the eyes of many as industrial capitalism continued to reign. The new "white collar" mentality was born, providing more workers with a salary instead of an hourly wage. Retail jobs also flourished, and women were working more than ever before.
Once inside, he asked the young boy his name. He answered that his mom called him Emmett. A bowl of Cream of Wheat, a popular food at this time, slid in front of him, and he devoured it quickly, although french toast sounded better. It was apparent he hadn't eaten a regular meal in quite a while.
"How about your mother, my friend? Shouldn't you be letting her know your whereabouts?"
 He shrugged his shoulders and mumbled something about her supposedly being in Columbus or somewhere thereabouts. He quickly and with enthusiasm, said his father was a riverboat captain and was coming to get him soon. He spoke proudly of his father and his position but admitted he didn't know much about him. He admitted as to having never actually met his father. It had been months since his mother left him with a loaf of bread and a blanket as she rode off with yet another man.
After a much-needed hot bath and a haircut, Emmett emerged from behind a curtain wearing clean but ill-fitting clothes. Douglas thought he really needed to get some fabric in stock so customers could make clothes for themselves. Perhaps he could purchase raw materials and have them processed for just such a purpose in the future. His old cotton knife lay on the table and he closed it up with a nice snap. He gazed at the boy and mentioned how much better he looked now. His age was about 12, he guessed, still a kid and forced to grow up way too fast. Ms. DeLario took to him right away and marveled at his manners for a child of the streets. She had never had children and enjoyed interacting with the candy seekers each morning. You could see the sparkle in her eyes as she combed his brown hair and straightened his coat.
The first thing to be done was to speak to the local authorities to see if this young fellow was homeless and that no one was looking for him. Sheriff I. Ward Taylor took time to talk to him, but the sheriff's mind was elsewhere as a serious murder mystery was still unfolding in the county. It seems a riverboat captain had killed a man caught meeting his wife. The story was intense, with many twists and turns. The local paper, the "Semi-Weekly Irontonian," reported.
Thursday, the second of May, 1907, pg. 2–DR. WAYNE McCOY SHOT AND INSTANTLY KILLED–Capt. John Davis of the Portsmouth Ferry Boat the Slayer. Awful Tragedy at South Point in Which a Ruined Home was Exposed, a Man Forfeited His Life and the Brand of Cain Marks Another: Dr. Wayne McCoy, one of the best known physicians and residents of Lawrence County, is dead at his home in South Point from pistol wounds inflicted by the man who sought to maintain the sanctity of his home, Captain John Davis, also a well know and highly esteemed resident of South Point. The tragedy occurred at 11:10 o'clock Wednesday night at Davis' home and there were no witnesses but Davis and his wife. McCoy had called at the Davis home sometime previous to his discovery by the wronged husband and was in the house when Davis returned home unexpectedly. What occurred just prior to the shooting is not known as Davis fled after the shooting and his wife could not be seen. It is known, however, that Dr. McCoy was found in the house and that Davis opened fire on him. The first ball struck McCoy over the left eye and produced a flesh wound. It is thought he then started to flee, when the second shot was fired. The bullet from the second discharge penetrated the back of McCoy's head and caused his instant death. Immediately after the shooting Mrs. Davis ran from her home and notified Mr. Brubaker and Peral Davidson that her husband had shot McCoy. These men went to the Davis home located just this side of the South Point School building and there found the lifeless body of Dr. McCoy lying in the yard. His hat was on the porch and blood spots showed the trail followed by the death stricken man. The men did not disturb the body, but immediately aroused the neighborhood and a call was sent for coroner Remy. That official responded and authorized the removal of the body to the McCoy home where it was received by Mrs. McCoy. In the meantime, John Davis, the slayer had fled and up to daylight, he had not been apprehended. Indeed no attempt was made to effect his capture or stop his flight. Where he went no one knows.
Of course, Douglas pondered if his newly found friend was a part of this tragedy? Some of the facts seemed to support his concern, while some pieces just didn't fit. Once back at the Bronze Lantern, he sat the boy down and attempted a conversation to clarify some confusion. Although Emmett liked Mr. Stacy, he had already warmed up to Ms. Delario and didn't open up to his onslaught of questions. Days passed, and still, no information came forth to help Emmett return to his family.  Perhaps he really didn't want to. It seemed that Ms. Delario's relationship might be the best avenue to gain the truth about the homeless boy.
Her kind and motherly instincts allowed Emmett to reveal the truth as he knew it. Was it totally accurate? No one will ever know for sure. It seems his last name was actually Porter, not Davis, the last name of the riverboat outlaw they searched for to close the murder case.  It was true that his mother had abandoned him, but if his father was a riverboat captain was still a mystery. He didn't have any siblings like those in the murder investigation. The murder situation certainly put the townspeople on edge, but this young homeless lad was not part of this evil event. Learning this news gave Mr. Stacy a feeling of relief, but what was to become of Emmett now? He was in no position to raise him, as he was on the road quite a bit. As he sat sipping his tumbler of bourbon, watching the tiny snowflakes coat the walkways, he had an epiphany.
A well-groomed young man entered the store from the rear and proceeded to tidy up the office space. Once his daily security duties were finished, he then assisted Abagail with the bookkeeping. They giggled and laughed while she made him complete math computations to improve his schooling. He was seriously behind for his age, but she knew she could motive him to succeed.  As the holiday arrived, it was evident that Ms. DeLario was more than willing to take the lad into her home and raise him as her own. She loved him so much and he the same towards her. Mr. Stacy paid for the legal adoption in the coming months so that he would officially be her adopted son. He put a big red and green bow on Emmett and whispered, "Merry Christmas" in her ear on Christmas Eve. She was overcome with emotions, and so was young Emmett. Emmett Porter DeLario went on to become a prominent member of the Ironton society and oversaw the development of a home for wayward children later in life.
Ms. DeLario wanted to give something special to Emmett for the Christmas of 1907. A friend had spoken about a perfect gift that lived just outside of town on a farm. Pepper was a Border Collie mix that was black and white with some silver mixed in the coat. Smart didn't even begin to describe this dog, and the duo became inseparable. They took over as the security team for the Bronze Lantern for the next six years until Emmett went away to college in Cincinnati. Even then, his apartment landlord allowed Pepper to stay with him while doing his studies. Summers were spent in Ironton helping his mother with the bookkeeping. He could always reach down at any time while sitting at his desk and get a warm nuzzle from Pepper. Pepper even carried the ring for Emmett's wedding in 1922.
As Emmett hugged Abagail after receiving Pepper as a gift, Mr. Stacy reached into his pocket and placed one more gift in his hand. He opened it to see a bone-handled trapper made in Napanoch, New York. The knife was a sign of lasting friendship, and Emmett knew how much these knives meant to Douglas. He looked at Emmett and said, "a knife is only as good as the man that wields it."
"Take care of it, and it will take care of you."
Christmas in 1907 at the Bronze Lantern in Ironton was indeed a special one.